Friday, June 21, the Philippines became the first country outside of Africa to destroy ivory seized by its law enforcement.  I wrote about it for National Geographic here: In Global First, Philippines to Destroy its Ivory Stock and here: Pulling Teeth.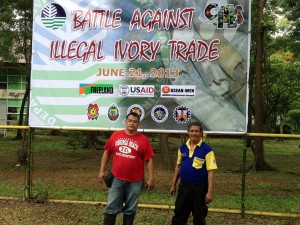 The United States opposes the international ivory trade but its decades-old stockpiles of seized ivory gather in official places like the US Fish and Wildlife Service's Colorado repository and unofficially in places like its Philadelphia office.  Why? 
At the destruction ceremony in Quezon City I listened to one of Africa's leading law enforcement officials, Bonaventure Ebayi, say he hoped this was the beginning, that other countries would now join the Philippines in its stand against the illegal ivory trade.
I've received countless emails asking what a person who cares about the future of the African elephant can do to help.  To many I've responded that there's nothing you can do. You're an American.  Our laws ban international ivory trade and they're reasonably enforced.  But there is something you can do.  You can insist the US join the Philippines, which could not by any measure afford to waste >6.5 million bucks. Unless it cared.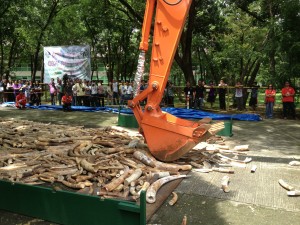 As Philippine Department of Environment and Natural Resources Secretary Ramon J.P. Paje made clear, the Philippine people he represents did not see the ivory as a financial opportunity. They saw it as the proceeds of a crime to be destroyed.
Many without a sense of the poor state of international law enforcement when it comes to trafficked species such as elephants and rhinos complain that any seized ivory or horn should be sold. The animals are dead they say, Why not profit?  Why not put the money to law enforcement even?
But money from these materials disappears like blood on sand.  The illegal ivory trade is at least a $50 million a year business and since the ivory ban was put into place in 1990 not one kingpin has ever been identified.  China recently prosecuted a significant trafficker, but it is clear that the biggest players operate freely.  In that environment, expanding the ivory trade feeds crime.  Whatever the wild species–turtles, pangolins, elephants, rhinos, tigers–there just aren't enough rare animals on earth to satisfy China.  It's growing too quickly.
Legal ivory fed to China expanded that country's appetite.  After the 2008 CITES-approved "one time" auction of 102 tons of ivory to Japan and China,  the Chinese government built the world's largest ivory carving factory.  It began training college students to take up the trade. The goal was to process the ivory and to be ready for more, to be ready for an ivory consuming future.  China wants more ivory and every bit fed to its system causes that industry to grow, fueling poaching, killing elephants, murdering rangers.  China's economic growth outpaces the natural death of elephants and in the breach is murder, corruption, and one day, extinction.  In an ideal world that wouldn't be the case.  But this isn't an ideal world.  It's the one we have.